!HPEDIT> <!- Achtung: Diese Datei darf nur mit dem Homepage Editor bearbeitet werden. -> <!- Bei Verwendung anderer Editoren ist es moeglich, dass diese Datei nicht -> <!- mehr in den Homepage Editor eingelesen werden kann. ->
Rottach
Situation: Illertal, close to Immenstadt and Kempten
Climate: Sun in early afternoon, dense forest.
Rock: Conglomerate
Topo: Allgäu-Block, GEBRO Verlag
Boulder problems
About 113 boulder problems 3+ - 8a
3 - 5+ : 38
6a - 6c+ : 43
7a - 7b+ : 16
7c - 8a: 11
Projects : 4
Sector B, block 30 and 31 (Hohle Gasse): Due to bird-protection the access to the "Hohle Gasse" is closed starting from 1st of January each year. Bouldering and climbing is not possible during this period. The end of the closure is handled flexible, information to the end of the closure can be found on signs at place and in the www (a rough benchmark for the end of the closure is the period between beginning of July and beginning of August).
In Rottach in sektor A on boulder 1 is a new problem: "Tauzone", 7b SD; Start in "Late Light Edge", traverse into "Hasenfuß" and exit this.

"Late Light Edge" is now better cleaned and more like 6a and in the "Hasenfuß" some new holds are brushed, so this is more like an easy 7a now, though a bit morpho on the last move.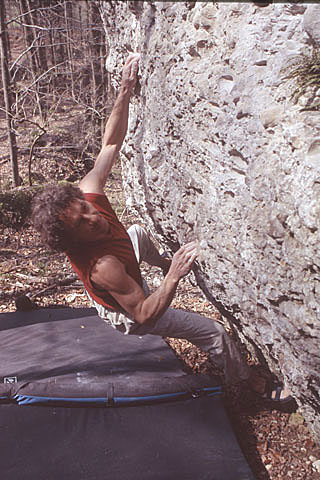 Rainer Retzlaff in "Frauenfrei Zone" Fb 6a+